Crates & Skates
Knightmoves Australian Business Relocations has now introduced security crates and skates to replace the cardboard cartons previously used for shifting purposes. These crates and skates are stackable and lockable as well, used for shifting across the continent, especially in Sydney, Brisbane, and Canberra.
Features of the crates and skates
No need to worry about taping and assembling boxes.
Numbered security tags to facilitate shifting even complex structures like libraries.
With a built-in rim to suspend hanging files, packing and unpacking the filing cabinets become easier.
No risk of collapse with lockable stackable features.
The interlocking lid is secure, yet easy to use.
To eliminate the possibility of heavy lifting, the crates are also supported by skates.
The skates come with a brake mechanism to prevent slides.
Anti-mark wheels used in the skates make it suitable for carrying on all types of flooring.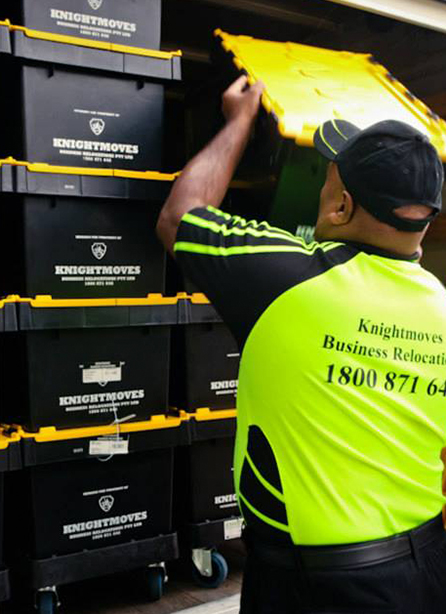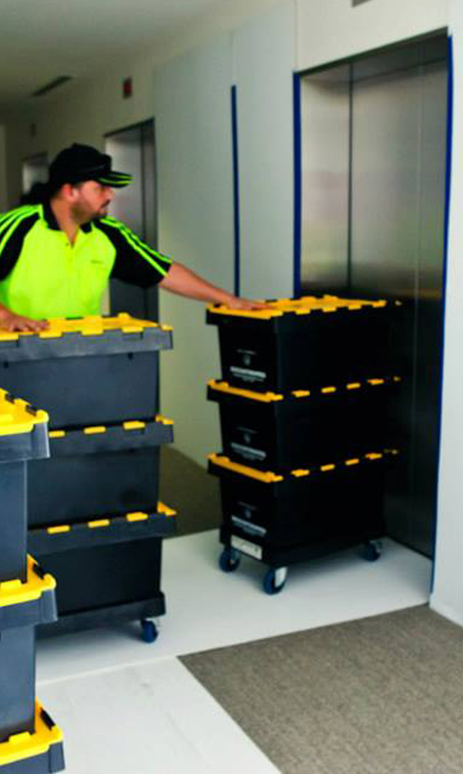 Benefits of using crate and skate for relocations
Makes your moving experience much easier
Be it renting only the crates and skates, or hiring relocation services like Knightmoves, these plastic containers make the whole process very smooth. They do not need any delicate treatment and can sustain a very heavy load too. With the customisable racks inside, it is a one-size-fits-all equipment, highly enhancing productivity. The crates are easier to move around too, with fitted anti-mark skates.
Sturdier and more durable than cardboard boxes
Technically, these plastic containers can definitely hold more weight than the traditional cardboard boxes. In addition to that, these crates and skates are even more secure, and can be used as temporary stacking too, without the concern of wearing out.
As the crates and skates are reusable, they are not very expensive and serve their purpose really well. You can even pack more things in these durable boxes, thus reducing your cost of packaging more things. With crates and skates that can be secured with locks, you also save the expense on tape and labour, further reducing the cost.
Using the secure crates and skates instead of cardboard boxes is also an eco-friendly idea. Our company can keep using this secure crate for other assignments too after your service, contributing less to the waste generation.
Looking for affordable crates and skates rental?
Be it for shifting or for storage, these secure crates and skates are the best choice for all your commercial belongings. Contact us today at info@kmbr.com.au to get free consultation and more insight into what Knightmoves Australian Business Relocations can do for you.